January 9, 2017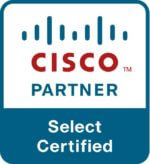 To earn Select Certification, Bluetowne fulfilled the training and exam requirements of the SMB Specialization, demonstrating that the company has invested in achieving the sales and technical skills needed to deliver integrated network solutions tailored for the SMB market. Bluetowne also met the personnel, training, and post-sales support requirements set forth by Cisco.
"Bluetowne is dedicated to providing the most innovative, highly secure solutions for our clients," said Eric Hartley, President, Bluetowne. "Our Select Certification is a reflection of our commitment to Cisco and the targeted products and support it offers for the SMB market, as part of the comprehensive solutions that we design and deploy to meet each customers' unique needs." The Cisco Channel Partner Program provides state-of-the-art technical and sales training to help Select Certified Partners increase their ability to deliver services related to Cisco SMB solutions and maximize their customers' productivity. As a Cisco Select Certified Partner, Bluetowne earns several benefits: It may use the Cisco Certified mark to validate the company's SMB expertise; acquire demonstration equipment and training; benefit from specialized business and technical training built from the ground up for SMB, and be listed in the Cisco Partner Locator.
About Bluetowne:
Bluetowne's mission is to provide expert, customized end-to-end IT solutions through remarkable customer service. From the mouse to the datacenter, we serve as trusted advisors to clients of all types and sizes and across all verticals locally (including Mt. Pleasant, SC, Charleston, SC, and Summerville, SC) and regionally to advance customer achievement through efficient and cost effective execution. Visit www.bluetowne.com or call 843.352.0130 for more information.